Lesson 2: Corporate Social Responsibility and Regulation
Another area in which organizations must demonstrate the concepts of disclosure and transparency is with corporate social responsibility activities. One of the "broadest ways of defining social responsibility is to say that the continued existence of companies is based on an implied agreement between business and society." Publics expect organizations to be good citizens by providing for the social good. Corporate social responsibility (CSR) activities create long-term value for organizations because these activities often pair philanthropy and financial performance.
This situation mirrors the Page Principle of "managing for tomorrow." Disclosure and transparency play an important role in the long-term value. If companies are not open about where philanthropy dollars and efforts are being given, it can create mistrust and damage stakeholder relationships.
Some critics of CSR see it as only face-saving tactics. This sentiment is echoed in a report from the U.K. charity Christian Aid, which said companies use CSR to only say "'We can't be so bad,' ….. 'Look at all the nice things we do.'"
To avoid this criticism, transparency and disclosure are necessary. For example, if a company donates a percentage of its profits to a non-profit, both the company and the non-profit organization should fully disclose this relationship.
Members of both organizations' publics have the right to know this information so they can make an informed decision about supporting the organizations. The company stands to gain an improved reputation, an enhanced image, the ability to attract excellent employees and the ability to keep loyal customers through this CSR program.
The non-profit also gains in that it is receiving revenue so that it can work toward its mission. In addition, this CSR program would be helpful to the company's cause should it fall into a crisis situation. It seems like a wonderful win-win situation for all involved, right?
Not so fast.
Next Page: Coca-Cola and Global Energy Balance Network: An Example
Coca-Cola and Global Energy Balance Network: An Example
If a scandal hit either the company or the non-profit, both would be affected because of the relationship. Consumers might decide to no longer support either or both organizations.
Consider the case of Coca-Cola and the nonprofit Global Energy Balance Network (GEBN). According to Coca-Cola's website, it is the number one provider of "sparkling beverages, juices and juice drinks, and ready-to-drink teas and coffee," and it's the largest beverage company in the world. GEBN is a nonprofit with the goal of promoting healthful eating. More precisely, the nonprofit advocates that "weight-conscious Americans are overly fixated on how much they eat and drink while not paying enough attention to exercise." Coca-Cola, through its foundation, has a goal of promoting well-being and used the slogan "Helping Families Get Fit," in a 2012 foundation video.
The Coca-Cola Foundation is the philanthropic arm of the company that operates most of its CSR activities and donations. To support the Get Fit goal, the Coca-Cola Foundation gave $1.5 million to GEBN and close to $4 million to two of its founding members. Some critics say the donation was an attempt to deflect sugary drinks' role in obesity.
The criticism intensified after it was learned that GEBN's website was registered to the Coca-Cola headquarters in Atlanta, and the company was listed as the site's administrator. The story received national attention when The New York Times ran a story about the relationship.
The Association Press obtained emails between the company and GEBN that showed "Coke was instrumental in shaping the group. It helped pick its leaders, edited its mission statement and suggested content for the group's website. A proposal circulated at Coke also laid out a vision for a group that would counter the 'shrill rhetoric' of 'public health extremists.'"
The involvement of Coca-Cola in GEBN's day-to-day operations was not disclosed or readily understood prior to these investigations. Although the president of Coke North America stated he believed that Coke's intentions with GEBN were good and the goal of the CSR relationship was to be helpful — the damage was done.
Where did all the mutual benefits for Coca-Cola and GEBN go? Even if the intentions were good, the lack of disclosure and transparency turned a CSR activity into a crisis. The end result was that GEBN was disbanded within three months of The New York Times story, and Coca-Cola's CSR activities were put into question. Ultimately, the end result was a loss of reputation and damaged relationships for the company.
As the Page Principles suggest, and as this example demonstrates, public perception is determined 90 percent by what the organization does and only 10 percent what it says—especially when it discloses very little. Companies and non-profits have to be careful when creating CSR relationships because each organization's well-being is often dependent upon the other and each other's actions. As in this case, failing to disclose a CSR program and having it found out later was disastrous.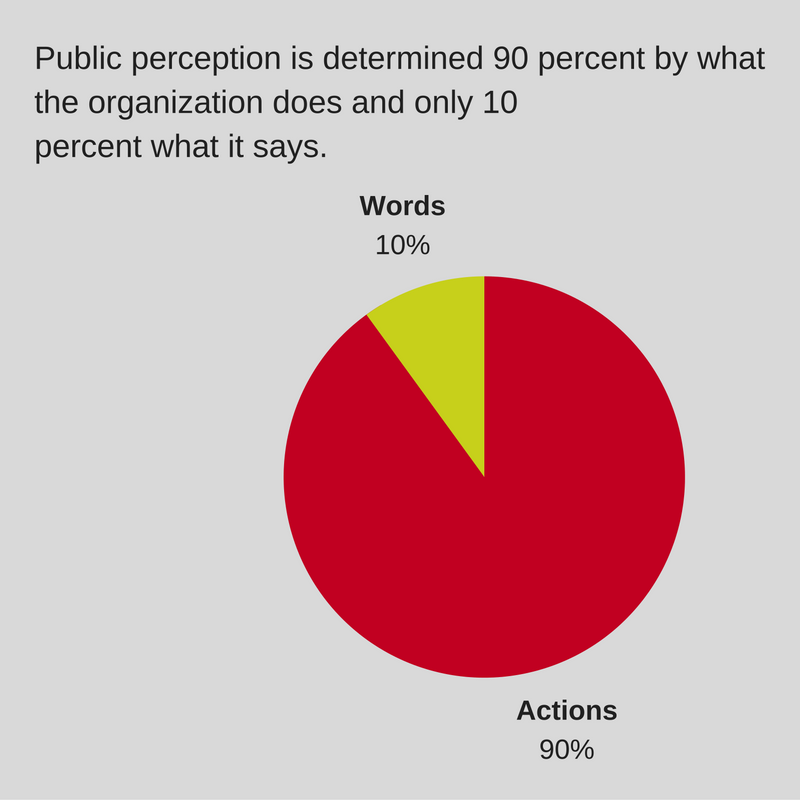 With the advent of technology such as social media, it is easy to share such omitted or hidden information with a vast amount of people in a short time. Consumers, supporters, employees, stakeholders and even people who might not already have a relationship with either organization would feel deceived and betrayed. Trust would be lost. The negative effect on the organizations would be far-reaching and long-term, and it could be difficult, if not impossible, for the organizations to rebuild relationships and trust with their publics.
Although transparency and disclosure might cause some discomforts, these are the best courses of action and the most ethical communication choice either organization can make. "Transparency leads to authenticity, then listening, which should lead to honest communication," says Augie Ray, executive director of community and collaboration for United Services Automobile Association.
Guidelines and Regulations
As we have discussed, transparency and disclosure are complicated issues. Having guidelines to put disclosure into practice is necessary.
First, consider the timeliness of releasing information. The public should be notified as soon as legally possible. Remember if the information isn't released, it will most likely escape. As Steward Brand wrote, 'information wants to be free."
Another check for disclosure is to always verify sources, data and research methods. Make sure the necessary research has been conducted and the practitioner can stand behind the facts and sources. The facts might be from other sources, but the practitioner will be the one putting the relationship at risk, and therefore, must fact check.
Page Principles and PRSA Guidelines
Professional organizations such as the Page Society and the Public Relations Society of America (PRSA) give practitioners guidelines about transparency and disclosure.
The Page Principles advise practitioners to tell the truth, listen to stakeholder to learn what information is needed and always manage for tomorrow. These core principles provide a foundation for how to handle transparency and disclosure.
PRSA provides specific examples through the organization's ethical standards advisories. In these advisories, practitioners are encouraged to reveal any conflicts of interests, disclose financial interests and avoid deceptive practices. Conflicts of interest are part of professional and personal life, and must be disclosed to build trust.
The advisory from PRSA about professional conflicts of interest suggests disclosing anything that might be perceived as biasing the practitioner's judgment. Examples include disclosing that a family member works for a competing client, having an outside job, taking on clients with opposing philosophical or moral orientations and receiving gifts from clients.
In addition to personal conflicts of interest, practitioners should be transparent about financial interests. An excellent example of financial interests is pay-for-play. The term comes from early radio days when DJs were paid to pay specific musicians. In public relations, the term means "the undisclosed compensation of reporters or media for the placements of editorial material."
Advertorials, native advertising and sponsored content can exist in any media channel, but the growth of the internet and social media has compounded the issue.
In a 2013 survey by Edelman, the firm found that 73 percent of online outlets offered sponsored content. The sponsorship of content occurs in media large and small. For example, The New York Times has a production studio dedicated to creating stories sponsored by advertisers. An early work from this group was an interactive story about a women's prison sponsored by Netflix, and timed with the premiere of the second season of "Orange is the New Black."
The newspaper disclosed the sponsorship with a special URL, the words "paid post" and both the Netflix and show logos. Some critics think the sponsorships such as The New York Times/Netflix one should be displayed more prominently so "reader confusion over what's an ad" does not occur. Without clear disclosure of financial relationships, trust is hard to build and then maintain. However, The New York Times and many other print and online publications continue this controversial practice.
Finally, the PRSA Code of Ethics states to avoid deceptive practices such as omitting facts, failing to correct false facts, deceptively using front groups and paying for "volunteers." The unethical use of front groups is also called "astroturfing," implying that the group appears to be a grassroots organization, but is really a fabrication.
An example is the Coalition for Better Food. It sounds like a grassroots organization, but was formed by "farm interests dedicated to softening legislation on feed lot pollution." Therefore, the Coalition for Better Food lobbied for farmers and farming interests rather than for the average person interested in better food choices.
In addition to using front groups, the creation and compensation of individual volunteers must be disclosed. Faux volunteers could range from experts endorsing an idea, to people posting comments on a blog, to advocates filling a city council meeting, but all are deceptive and could lead to damaged relationships. These unethical tactics might work in the short run, but once discovered by a public the damage is almost irreversible. The short-term gains are not worth the long-term harm to reputation and relationships.
Legal and Regulatory Requirements
In addition to professional guidelines for transparency and disclosure, practitioners have to be aware of legal and regulatory requirements. The Securities and Exchange Commission (SEC) has extensive rules concerning information released about publicly-traded companies.
For example, the SEC's Regulation Fair Disclosure policy requires that all "material nonpublic information" must be released to investors at the same time in an effort to minimize insider trading. In 2012, the SEC used this regulation to charge a public relations practitioner for using nonpublic information gained by working with the client.
The practitioner learned that her client was about to purchase a bank and bought stock in that bank before making that information public. She benefited financially from using this nonpublic information. Not only did she violate SEC regulations, she damaged her ethical standing with current and potential clients.
The Federal Trade Commission (FTC) regulates the types of information that can be used in public relations about products and services. Recently, the regulators updated the rules about disclosure on the internet and required that promotional content must be disclosed.
This regulation change means internet content creators must state anything of value given to them to secure coverage. As an example, if you create a YouTube video that uses a donated or even discounted product, you must disclose that relationship.
Additionally, practitioners must follow industry specific guidelines. For example, if you are in the medical area, you need to follow Food and Drug Administration rules. Similarly, if you are in higher education, you need to abide by the Family Education Right and Privacy Acts that limit the type of information that can be released by universities. Every industry has specific rules and regulations that practitioners must follow. Following these guidelines not only helps organizations to abide by the law, but also to be transparent and ethical.
Case Study: Flint, Michigan, Water Crisis Part 2
Resident of Flint, Michigan had suffered with horrible water quality, money issues and an outbreak of Legionnaires' disease. The situation was not over though. In part two of this case, you will learn about dangerous levels of lead in the water and government agencies obscuring the facts. Included in the link below are official government documents from the situation for you to explore as a transparency activity.
Government documents related to Flint Water Crisis
Consequences
The EPA in February 2015 notified the MDEQ it had detected dangerous levels of lead in a Flint resident's water. The lead contamination became impossible to deny in October 2015 with the announcement by the MDEQ that three Flint schools tested positive for dangerous levels. Since the water in the Flint River was not properly treated, lead from the old pipes leading to homes, schools, and businesses was seeping into the Flint water supply due to the switch in water source.
Lead can cause serious problems for anyone exposed to it. For example, cognition impairment, behavioral disorders, hearing problems and delayed puberty are common ailments in children exposed to it. Lead is thought to delay fetal development in pregnant women. It affects the heart, kidneys and nerves of anyone who consumes it. Although medicine can lessen the amount of lead found in victims' blood, there is no medical intervention to reverse its effects. City Council members voted 7-1 to stop using the Flint River water supply in March 2015, but Jerry Ambrose, a state-appointed emergency manager, overrode the votes stating reconnecting to Detroit's water supply would be too costly and was no safer than the water from the Flint River.
Further confirming the lead problem in 2015, a Virginia Tech research team found that 40 percent of homes had elevated lead levels. The research team also found Flint River water was 19 times more corrosive than water from Lake Huron, which supplied water to Detroit. The researchers said the state should declare the water unfit for drinking or cooking because lead levels were so high the water would be classified as hazardous waste by the Environmental Protection Agency.
However, MDEQ spokesman Brad Wurfel told journalists he was skeptical of the Virginia Tech study's findings. Adding to the controversy, the governor also announced 87 cases and 10 deaths of Legionnaires' disease were found in the Flint area between June 2014 and November 2015. The link to the crisis was suggested, but Nick Lyon, director of the MHHS, said these cases could not be directly connected to the water.
The city switched back to Detroit water on October 15, 2015, and the city declared a state of emergency on December 14, 2015, with Michigan following through January 5, 2016. The residents immediately knew that something was wrong with their water, but the government officials took more than16 months to switch the water source. In November 2015, residents filed a federal class action lawsuit alleging 14 state and city officials (including Gov. Snyder) knowingly allowed residents of Flint to be exposed to a harmful water supply.
Although Freedom of Information Act (FOIA) requests were filed, Michigan is one of only two states which protect governors from having to comply with such requests. Journalists file FOIA requests as a way to access unreleased information that is often controlled by government. However, since 1976, Michigan's governor has been exempt from such requests. In Michigan, lawmakers are also exempt from FOIA. At Snyder's State of the State Address in January 2016, some Democratic lawmakers wore blue scarves or clothing as well as buttons that said "What did you know and when did you know it?" and "No exemptions for transparency." to symbolize their support for Flint.
Snyder's office released more than 127,000 pages of emails from state departments involved in the Flint water crisis in April 2015. Some described this information release late on a Friday as a "massive late afternoon email dump."
In February 2016, a spokeswoman for the U.S. Attorney General's Office in Detroit said that not only were the inspector general and criminal investigation division of the EPA looking into the Flint water crisis, but also the FBI and U.S. Postal Inspection Service were aiding the investigation.
Three government employees including a former laboratory and water quality supervisor, a district water supervisor for MDEQ, and a district water engineer were charged on six felony and misdemeanor counts including tampering evidence (felony) and willful neglect of duty (misdemeanor).
Other current and former state workers were charged with counts including misconduct in office and willful neglect of duty for allegedly misleading the public and concealing evidence as the investigation continued in July 2016. As of November 2016, the state and city are still under orders to deliver bottled water to homes at which the government has not yet checked and ensured filters are working properly. The leader of a nonprofit group helping Flint residents said more than half of the homes with installed water filters were having problems with the equipment.
Moral of the Story: An Ongoing Crisis
The year-long investigation into the crisis was quietly closed by congressional republicans in December 2016. The committee provided no new findings or information about the crisis that has affected approximately 100,000 residents. However, after a year of arguments, Congress provided $170 million to help Flint and other communities with water supplies contaminated by lead. While the oversight panel's senior democrat, Rep. Elijah Cummings of Maryland, said the investigation should continue, noting Snyder's refusal to provide or search for key documents related to the crisis which would have helped the committee to determine what the governor knew and when and why he did not act sooner, it is highly unlikely the investigation will continue.
For more information and video accounts of the Flint water crisis, please see:
Lesson 2 Assessment