Lesson 2: Introduction to Conscious Capitalism
The conscious capitalism movement in the United States, which emerged from the theory of corporate social responsibility, advocates for a business strategy that benefits both human beings and the environment. Conscious capitalism pushes for values-based economic values where values represent social and environmental concerns at both global and local scales. As such, the notion of conscious capitalism goes beyond "doing well by doing good" and develops a new structure for business and its reasons for existing.
Conscious capitalism is a useful way to think about the complex relationship between virtue and profits. Guided by conscious capitalism, many companies have created or installed models that make money by doing good—for example, by creating an inexpensive product for sale in the developing world that simply and quickly purifies water. These business activities are desirable economically, socially, environmentally, and ethically.
The Triple Bottom Line approach that focuses on people, plant, and profit provides a guideline for conscious capitalism.
The approach to profit is what distinguishes the entity as a business from the general social enterprise. As Peter Drucker noted "Profit for business is like oxygen for people: if you don't have enough of it, you're out of the game. However, if you think your life is about breathing you've clearly missed something." Essentially, conscious capitalism says that a business cannot be acting solely in self-interest, but rather must execute on both the fundamentals of profit and social good. Conscious capitalism reflects an evolution of the dominant capitalist economic model.
Next Page: Conscious Capitalism: A Definition
Conscious Capitalism: A Definition
Conscious capitalism is defined as an emerging economic system that "builds on the foundations of capitalism—voluntary exchange, entrepreneurship, competition, freedom to trade and the rule of law. These are essential to a healthy functioning economy, as are other elements of conscious capitalism including trust, compassion, collaboration, and value creation.
Conscious capitalism is ethically grounded free enterprise.
John Mackey, founder and co-CEO of Whole Foods Market, is the leading business proponent of conscious capitalism. Whole Foods Market, founded in 1980 in Austin, Texas and now consisting of 331 stores in the United States and the U.K., has embodied the ideals of conscious capitalism. The company has been listed as one of Fortune magazine's "100 Best Companies to work for" and was in the The Wall Street Journal ranking of the world's best corporate reputations.
Conscious capitalism has four pillars guiding a business for conducting socially responsible and ethical practices: purpose, stakeholder, culture, and leadership.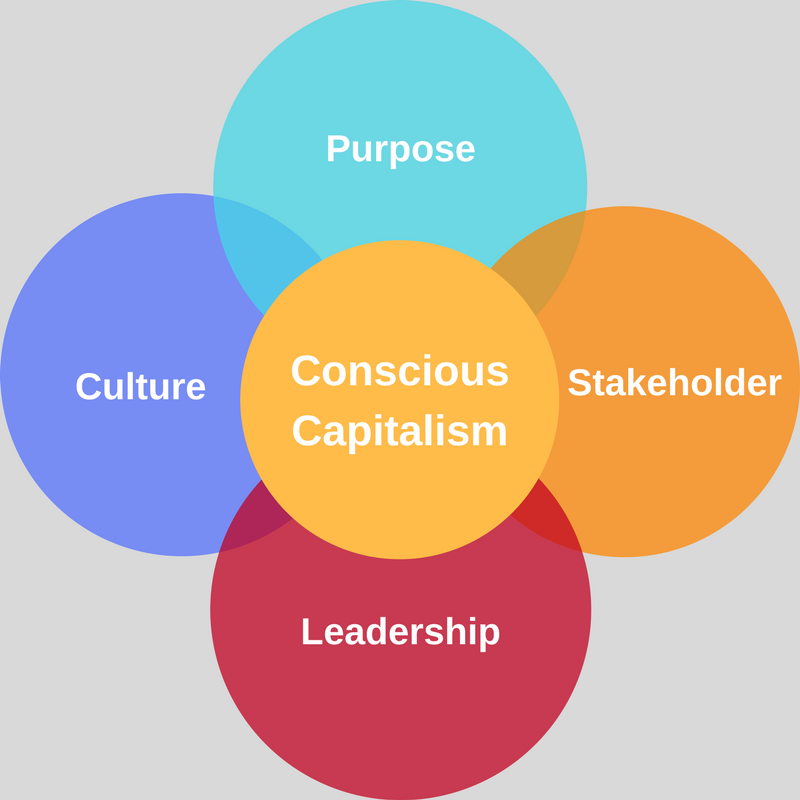 Higher purpose: This is the idea that every business has a purpose that goes beyond making money. "While making money is essential for the vitality and sustainability of a business, it is not the only or even the most important reason a business exists." By focusing on its higher purpose, "a business may inspire, engage and energize its stakeholders." Accordingly, a compelling sense of purpose creates a higher degree of engagement for all stakeholders and helps the generation and release of organizational energy.
Stakeholder orientation: This is the idea that life and the human foundations of business are independent, and a business needs to create value with and for its various stakeholders. Like the life forms in an ecosystem, healthy stakeholders lead to a healthy business system. Conscious businesses focus on their "whole business ecosystem, creating and optimizing value for all of their stakeholders." This idea is represented by the acronym SPICE: society, partners, investors, customers, and employees. In turn, strong and engaged stakeholders lead to a healthy, sustainable, resilient business, creating a win-win-win proposition.
Conscious leadership: This is the idea that conscious leaders understand and embrace the higher purpose of business and focus on creating value for and harmonizing the interests of the business stakeholders. Driven primarily by service to the firm's purpose, rather than by power or money, conscious leaders "inspire, foster transformation, and bring out the best in those around them." They recognize the integral role of culture and purposefully cultivate conscious culture.
Conscious culture: This is the ethos – the values, principles, practices – underlying the social fabric of a business, which "permeates the atmosphere of a business and connects the stakeholders to each other and to the purpose, people and processes that comprise the company." This idea is captured in the acronym TACTILE: trust, authenticity, caring, transparency, integrity, learning, and empowerment. The word "tactile" also suggests that the cultures of these companies are very tangible to their stakeholders as well as to outside observers.
TACTILE: trust, authenticity, caring, transparency, integrity, learning, and empowerment.
These four principles of conscious capitalism are mutually reinforcing. Companies that subscribe to the tenets of conscious capitalism may, in the long term, outperform other companies along multiple dimensions, including financial, while having greater beneficial impact on the world at large. For example, Patagonia has doubled the size of its operations and tripled its profitability.
This has occurred in spite of the company launching a marketing campaign that tells customers not to buy its clothes. Mackey argues that "while there is nothing wrong with making money, indeed it is absolutely necessary for the enterprise to flourish: it is not by itself a very inspiring purpose for the enterprise." According to the conscious capitalism movement, business exchanges aggregated collectively are the greatest creator of value in the world and this value creation is the source of business virtue.
"Practicing conscious capitalism enriches your life and the lives of people you do business with. And it's without a doubt, the most fun, enduring and profitable way to build a sustainable business."
Kip Tindell, chairman & CEO, The Container Store, trustee, Conscious Capitalism, Inc.
The Conscious Capitalist Credo
Conscious capitalism claims to address the shortcomings of corporate capitalism as it is currently practiced. Thus, the movement offers the prospect of integrating greater social responsibility into mainstream business practices. The credo of conscious capitalism focuses on this philosophical realigning of free-market principles with progressive business practices.
The conscious capitalist credo
We believe that business is good because it creates value, it is ethical because it is based on voluntary exchange, it is noble because it can elevate our existence and it is heroic because it lifts people out of poverty and creates prosperity. Free enterprise capitalism is the most powerful system for social cooperation and human progress ever conceived. It is one of the most compelling ideas we humans have ever had. But we can aspire to do even more.
Conscious capitalism is a way of thinking about capitalism and business that better reflects where we are in the human journey, the state of our world today, and the innate potential of business to make a positive impact on the world. Conscious businesses are galvanized by higher purposes that serve, align, and integrate the interests of all their major stakeholders. Their higher state of consciousness makes visible to them the interdependencies that exist across all stakeholders, allowing them to discover and harvest synergies from situations that otherwise seem replete with trade-offs.
They have conscious leaders who are driven by service to the company's purpose, all the people the business touches and the planet we all share together. Conscious businesses have trusting, authentic, innovative and caring cultures that make working there a source of both personal growth and professional fulfillment. They endeavor to create financial, intellectual, social, cultural, emotional, spiritual, physical and ecological wealth for all their stakeholders.
Conscious businesses will help evolve our world so that billions of people can flourish, leading lives infused with passion, purpose, love and creativity; a world of freedom, harmony, prosperity and compassion.
Conscious Businesses
Conscious businesses typically operate with low levels of employee turnover, thus saving on new employee hiring and training. For example, REI is passionate about reconnecting people with nature, and all of its employees are outdoor enthusiasts for whom every day at work is fulfilling because they get to share their passion with customers and help them explore nature.
Conscious businesses typically have to spend very little on marketing. This is because they have satisfied customers who are loyal and passionate advocates for the company. Whole Foods explains: "We want to meet or exceed customers' expectations on every shopping trip. We know that by doing so we turn customers into advocates for our business. Advocates do more than shop with us, they talk about Whole Foods Market to their friends and others."
Conscious businesses are very selective about their suppliers, looking for innovative, quality-focused companies that also operate in a conscious manner. Conscious companies that are positioned at a higher point in the price spectrum still offer value to customers, because of the quality of their offerings and the level of service experience that they provide. Examples of such companies include Whole Foods, The Container Store, and Starbucks.
Conscious capitalism is a comprehensive philosophy of doing business.
Conscious businesses have lower administrative costs because they continuously strive to eliminate additional expenses, gathering ideas from their employees and suppliers about how to do so. For example, Whole Foods Market is combating rising healthcare costs through a range of comprehensive employee wellness initiatives that go beyond what could be find at a typical company.
Conscious companies typically operate with much leaner management structures than do traditional businesses. They have created systems in which employees are given autonomy. Most employees operate in the "value zone," where they are actively creating value for customers rather than "managing" each other. As such conscious businesses are designed to be self-organizing, self-motivating, and self-managing.
Although the conscious capitalism movement offers a holistic approach to understanding the role of business in society, it has received some criticism. Opponents argued that conscious capitalism is an oxymoron and question the ethical ground for capitalism. See O'Toole and Vogel (2011) for a comprehensive discussion of the shortcomings of conscious capitalism
Conscious Capitalism vs. Corporate Social Responsibility
Conscious capitalism differs from the traditional understanding of corporate social responsibility (CSR). Moving beyond implementing a local community program or creating a company foundation, a conscious business focuses on an ongoing process of self-awareness. The term "conscious business" implies that a business will seek to be aware of its impact on the world in various spheres, including social and environmental, and continues this inquiry over time. This includes its impact on a human's inner and outer world as well as environmental well-being. In addition, a conscious business considers short-term and long-term effects of its actions or inactions.
Being conscious is a dynamic state. As such, a conscious business evolves in the ways in which it benefits the world. Therefore, though conscious businesses will be socially responsible, the term "conscious business" proposes larger connotations for the businesses' actions than does social responsibility. Below is a table comparing conscious capitalism and CSR: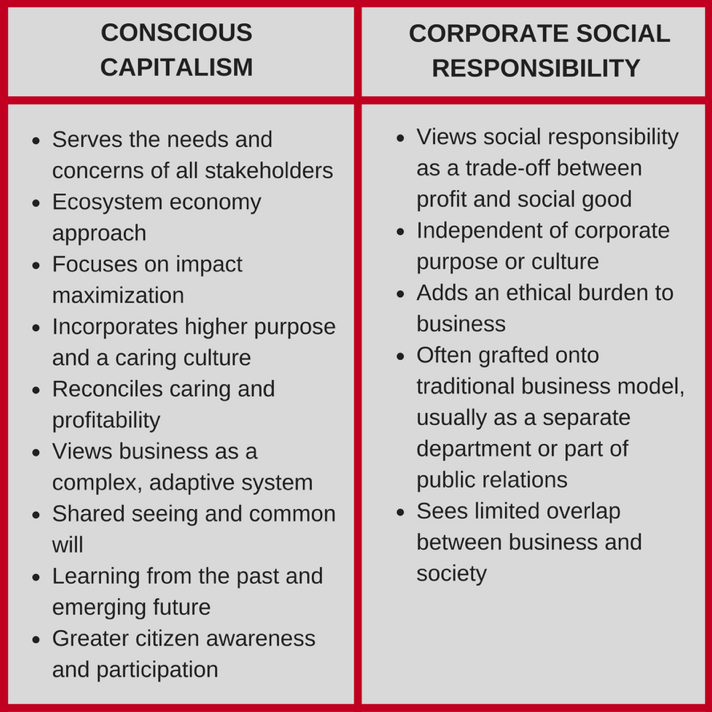 The distinctive contribution of conscious capitalism is that it is a more inclusive and holistic approach to understanding the complex relationship between business and society. It differs from other movements because it is rooted in an evolutionary change–the shift to greater levels of consciousness.
Conclusion
This lesson provided an introduction to conscious capitalism, which argues that success in today's business environmental is correlated highly with ethical, responsible, and inspiring behavior. Firms that meet and exceed the stakeholder needs and concerns in ways that win them over through a virtuous cycle of positive exchange, will be the firms that define the 21st Century. Therefore, an important component of a conscious capitalist system is businesses that reflect the system's core principles and values. The test of a truly conscious business is its ability to learn and grow from bad experiences, and to emerge even stronger and more committed to a conscious and ethical way of being.
Suggested Reading
John Mackey: Why Companies Should Embrace Conscious Capitalism
For Discussion
Discussion Questions
What makes one person more or less ethical than another? Where does that component of an individual's character come from?
What does it mean for an organization to be ethical? What is the difference between an unethical and an illegal act?
What does it mean for an organization to be conscious?
What is the difference between an ethical company and a conscious company?
Case Study: A Conscious Capitalist Approach to People, Planet, and Profit
Background
Recreational Equipment, Inc. known as REI, is an American retail and outdoor recreation services corporation. With annual revenue $2.4 billion, REI operates 143 retail stores in 36 states and considered as one of the most powerful forces in outdoor retailing, with over $2 billion in sales in 2014. The company is organized as a consumers' co-operative—owned and managed by consumers with roughly 5.5 million members who pay a one-time fee for a share of the business and contribute 80 percent of its sales. Jerry Stritzke, REI President and CEO, explains the co-op business model:
Our co-op model allows us to support that passion and to think "beyond profit." The co-op is passed from one generation of stewards to the next. Each generation is connected by a deep love of being in places full of life and wonder. That's what it means to steward the oldest and largest outdoor co-op. We are working across generations for the outdoors because it helps us live our lives to the fullest.
Beginning in 2014, with the introduction of the REI Co-Op line of clothing, REI has publicly re-emphasized the cooperative aspect of its business model. In October 2015, the company launched a redesigned logo, which includes the word "co-op" for the first time since 1983.
The core purpose of REI guides the organization: "we all work to inspire, educate and outfit for a lifetime of outdoor adventure and stewardship." REI supports conservation efforts nationwide and sends teams of volunteers, including members, customers and REI employees, to build trails, clean up beaches, restore local habitants.
REI has been ranked in Fortune magazine's list of the "100 Best Companies to Work For" in the United States every year since the rankings began in 1998 and earned a place in the Fortune "Hall of Fame." REI employs more than12,000 people and all employees have access to health care benefits.
Employees receive discounts on merchandise, may be eligible for free or discounted outdoor classes, and also receive a "Yay day" pass, entitling them to spend up to six hours outdoors for pay.
"At REI, we inspire, educate and outfit for a lifetime of outdoor adventure and stewardship." -Jerry Stritzke
Jerry Stritzke highlights the correlation between conscious practices and profit: "When REI is doing well, we can do more for the outdoor community. As REI grows profitably, we can invest more in our people, in our members and in our nonprofit partners."
On Black Friday 2015, REI closed all of its stores, halted the processing of orders on its website, and gave all employees a paid day off. Although Black Friday has been one of REI's top 10 days for annual sales, the company abstained from Black Friday and launched an #OptOutside marketing campaign, urging people to spend their time outside. REI is the first major retailer to forgo operations on Black Friday.
The Case: REI's #OptOutside Campaign
Issue & Course of Action
In October, 2015, REI announced that it would close 143 stores, halt its website operations, and give each of its 12,000 employees a paid day off on Black Friday. REI aimed to start a new Black Friday tradition, encouraging people to forgo shopping to spend time outside instead. With the hashtag #OptOutside, REI also asked people to share what they were doing on Black Friday on social media. The company has built a dedicated #OptOutside website with resources on local hiking trails. Furthermore, REI encouraged other companies to join them in what they describe as a stand against the commercial madness that is characterized the day after Thanksgiving for at least a decade and a half.
For REI, Black Friday has consistently been a top 10 sales day. Stritzke acknowledged the business is taking a risk by closing, but he was more concerned with the message the company sends to consumers:
The thing that is powerful to me is this clearly is not a financially self-serving act. It's an act where we're really making a very clear statement about a set of values.
As such, according to CEO Jerry Stritzke, this new move aligns with REI's mission that "being outside makes our lives better."
Taking such a stand is a bold step toward making REI visibly authentic as well. REI reported that 1 million Americans have participated in "opt outside" activities on Black Friday, many of them pledging to attend some of the 300 outdoor events listed as part of the campaign.
Furthermore, the #OptOutside campaign generated publicity and nationwide media coverage. USA Today praised the company for its bold step: "REI is taking direct aim at the frenzied consumerism that dominates the holidays with a message to do the exact opposite of what Black Friday demands. Forbes announced the news with the headline: "REI Shocks Retail World By Closing For Black Friday, Paying 12,000 Employees to Opt Outside" and noted that the company challenged "the shopping frenzy of, as their CEO puts it, 'fighting it out in the aisle'."
The next year in 2016, REI expanded the scale of the #OptOutside campaign and turned it into a well-developed movement. The company closed all 149 of its stores on Black Friday, processed no online sales and paid all 12,287 employees to take the day off and spend time outside instead. This time, more than 1.4 million people and 170 organizations joined the movement. The company explained the evolution in its blog Co-Op Journal:
Last year we started a movement for people to reconnect outdoors over the holidays. We closed on one of the most popular shopping days of the year, paid our 12,000+ employees to spend time outside, and invited America to join us. The response was overwhelmingly positive. More than 1.4 million people and 170 organizations chose to #OptOutside.
Consequences
REI continued its social media campaign with the hashtag #OptOutside and circulated a YouTube video. The company also actively asked other companies to join the #OptOutside campaign. In the second year, REI's call to join the movement attracted both corporate and nonprofit as well as government organizations, including Subaru, Google, and National Park Services.
The #OptOutside campaign has also enhanced REI's authentic brand voice and was well received by customers and employees. One customer wrote:

Customers expressed that they are getting a social good along with their purchase, in addition to the good and service received. The #OptOutside campaign started a social media conversation with millions of participants. It was praised and criticized alike. More than 275 organizations have joined REI in supporting the idea of going outside instead of shopping on Black Friday. The company announced that its revenue was not affected by the campaign. As conscious capitalists say REI's #OptOutside movement is a "win-win-win" practice for people, planet, and profit.
Moral of the Story
Conscious capitalism is a useful way to think about the complex relationship between virtue and profits. Conscious business activities are desirable economically, socially, and environmentally, and ethically.
REI's decision to close on Black Friday is an important test case for conscious capitalism. It is a brave and expensive decision in an industry that highly relies on this day for the bottom line purposes. Although REI has taken an economic risk, the company has made a strong statement about its values and enjoyed positive reaction from customers as well as employees. For many customers the company provides an "ethical and humane" alternative to the typical corporate model. It is important to note that REI is not a typical capitalist company. Because it is a co-op, it is less concerned about the bottom line, and investors, than its corporate publicly traded competitors.
Nevertheless, the decision highly resonates with customers' desire to support an "authentic" brand whose values align with their own. From an ecosystem approach, Conscious capitalism attempts to philosophically realign free-market principles with progressive business practices by stressing the profit-making potential of responsible, ethical, and sustainable corporate behavior. The test of a truly conscious business is, thus, its ability to learn and grow from past experiences and emerging future, and to emerge even stronger and more committed to a conscious way of being.
Supplemental Visual Materials
REI closing on Black Friday for 1st time in push to #OptOutside. (November 17, 2015). USA Today. http://www.usatoday.com/story/money/2015/10/26/rei-closing-on-black-friday-for-first-time-in-its-history/74627872/
#OptOutside You Tube Video. http://blog.rei.com/news/optoutside-will-you-go-out-with-us/
Lesson 2 Assessment